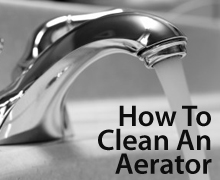 Typically found at the tip of indoor water faucets, water aerators split a single water stream into droplets, slowing the overall water flow and reducing the degree of "splashing".
Homes in Chicago with aerated faucets use up to 50% less water than homes without. However, aerated faucets can lose their effectiveness over time if they're not cleaned at least periodically.
This is because aerators can collect and trap particles including minerals deposits and grit, depending on the make-up of your home's water supply.
The good news is that cleaning your faucet aerator is a do-it-yourself job that requires no technical plumbing skills, and takes less than 5 minutes to complete.
Here's how to clean your home's water aerators.
First, close or cover the drain of your sink. This will prevent pieces or parts from getting lost. Then, unscrew the aerator from the tip of your faucet. You may be able to turn the aerator with your fingers. If you cannot, and need to use pliers, wrap the faucet with a towel to prevent damage to the faucet from the pliers.
Also, don't squeeze harder than necessary — you may bend the aerator casing.
Next, on a small towel, separate the parts of the aerator and lay them flat.
Then, using your finger, poke the mesh filter out from the aerator, being careful not to bend it. Use tap water to rinse sediment from the filter or, in extreme build-up cases, place the filter in a small cup of vinegar, soak it for an hour, then clean it with a small brush.
At this point, your aerator is clean. Replace the parts as you found them, and twist the water aerator back onto the faucet tip. If you use pliers for this step, remember to protect your faucet's finish with a towel.
There is no specific rule for how often an aerator should be cleaned. In some areas, it's twice yearly. In other areas, it's every 5 years. If you've never cleaned your water aerators, though, make today your first time.