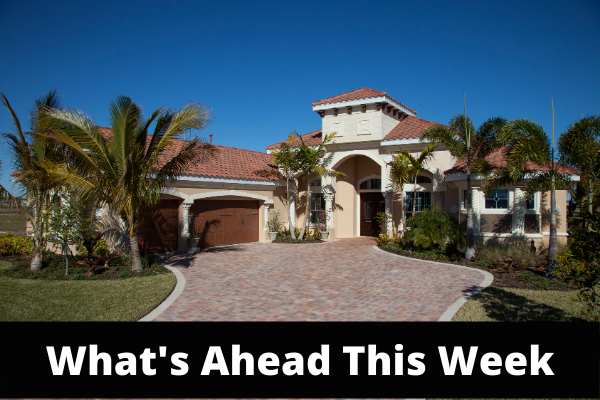 Last week's scheduled economic news included reports on home prices, pending home sales, and inflation. Weekly readings on mortgage rates and jobless claims were also released.
S&P Case-Shiller: National Home Price Growth Ticks Down in April
Home price growth slowed in April according to the S&P Case-Shiller National Home Price Index as growth slowed by 0.20 percent to a 20.40 percent gain year-over-year. Slower growth in home prices suggested that affordability concerns have caught up with the rapid home price growth seen during the pandemic.
The S&P Case-Shiller 20-City Home Price Index reported that Tampa, Florida home prices gained 35.8 percent year over year in April followed by a 33.3 percent price gain in Miami, Florida. Home prices in Phoenix, Arizona grew by 31.3 percent year-over-year.
Pending home sales rose by 0.70 percent in May as compared to April's reading of -0.40 percent. Analysts expected pending home sales to fall by 0.40 percent in May.
Fixed Mortgage Rates, Jobless Claims Fall
Freddie Mac reported lower fixed mortgage rates last week as the average rate for 30-year fixed-rate mortgages fell by 11 basis points to 5.70 percent. Rates for 15-year fixed rate mortgages averaged 4.83 percent and were nine basis points lower than in the prior week. The average rate for 5/1 adjustable rate mortgages rose by nine basis points to 4.50 percent. Discount points averaged 0.90 percent for fixed-rate mortgages and 0.30 percent for 5/1 adjustable rate mortgages.
New jobless claims fell to 231,000 claims filed last week as compared to 233,000 initial claims filed in the prior week. Continuing jobless claims were unchanged with 1.33 million ongoing claims filed last week.
In other news, the federal government reported that the Consumer Price Index rose by 8.60 percent year-over-year in May. This was the highest reading since 1981. Rising inflation was largely caused by rising food and fuel prices. The month-to-month reading for the Consumer Price index rose to 0.60 percent in May as compared to April's month-to-month reading of 0.20 percent growth. Analysts said that the economy is slowing due to rising consumer prices and interest rates; the Federal Reserve recently rose its key interest rate range to 0.75 to 1.00 percent to ease rapidly rising inflation.
What's Ahead
This week's scheduled economic reports include labor sector data on job growth, the national unemployment rate, and job openings. Weekly readings on mortgage rates and jobless claims will also be released.