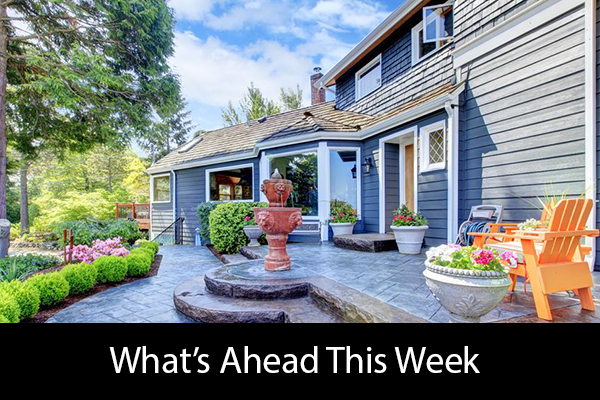 Last week's economic news included readings on home prices from Case-Shiller; readings on construction spending and pending home sales were also released. Weekly data on mortgage rates and jobless claims were also released.
Case-Shiller Posts New Record for Home Price Growth in June
U.S. home prices continued to gain at record levels in June according to S&P Case-Shiller Home Price Indices. The National Home Price Index rose from May's seasonally adjusted annual reading of 16.80 percent growth to 18.60 percent year-over-year home price growth in June.
Case-Shiller's 20-City Home Price Index reported no change in the top three cities for home price growth in June. Phoenix, Arizona, San Diego, California, and Seattle, Washington retained the top three positions in the 20-City Home Price Index. Analysts said that the current pace of home price growth isn't sustainable. Demand for homes slowed in June as affordability sidelined would-be buyers. Less demand for homes was expected to ease home price growth and provide an additional inventory of available homes.
Pending Home Sales Slow in July as Construction Spending Increases
The National Association of Realtors® reported that pending home sales slowed in July. Pending sales are sales for which purchase offers are received but are not yet closed. Pending sales of previously-owned homes fell by -1.80 percent in July; analysts expected pending sales to rise by 0.50 percent from June's reading of -1.90 percent. Pending home sales fell by 8.50 percent year-over-year in July. Pending home sales provide real estate pros a compass for estimating home sales completed in the future.
Homebuilders faced with an ongoing shortage of available homes for sale increased construction spending in July. Lumber and materials prices have stabilized from earlier in 2021 and should help builders complete more homes. Shortages of buildable land and skilled labor continued to impact optimum home-building conditions.
Mortgage Rates Hold Steady as Jobless Claims Fall
Freddie Mac reported no change in rates for 30-year fixed-rate mortgages, which averaged 2.87 percent; rates for 15-year fixed- rate mortgages averaged 2.18 percent and one basis point higher than in the previous week. Rates for 5/1 adjustable rate mortgages averaged one basis point higher at 2.43 percent. Discount points averaged 0.60 percent for fixed-rate mortgages and 0.30 percent for 5/1 adjustable rate mortgages.
Jobless claims fell last week as 340,000 first-time claims were filed as compared to the previous week's reading of 354,000 initial claims filed. Continuing jobless claims were also lower with 2.75 million continuing claims filed as compared to the previous week's reading of 2.91 million ongoing claims filed.
What's Ahead
This week's scheduled economic reports will be limited due to the Labor Day holiday. Readings on job openings and the Federal Reserve's Beige Book report will be released. Weekly readings on mortgage rates and jobless claims will also be published.