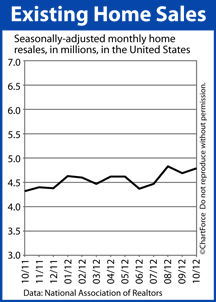 After a small decline in September, Existing Home Sales rebounded in October, increasing a modest 2.1%.
The housing market's slow, steady recovery continues as sales volume in all four regions expanded last month with the exception of the Hurricane Sandy-affected Northeast.
The National Association of REALTORS® monthly Existing Home Sales Report comprises completed sales of single-family homes, townhomes, condominiums, and co-ops. The Existing Home Sales report is compiled on a seasonally-adjusted, annualized basis. It shows a 10.9 percent sales increase as compared last year.
Sales volume might otherwise be higher, however, if not for a lack of homes for sale.
Total housing inventory fell 1.4 percent to 2.14 million homes last month which, at the current sales pace, represents a 5.4-month national supply — the lowest in more than 6 years.
The lack of supply amid burgeoning demand has led home prices higher nationwide. October's median existing home sale price was $178,600 — an 11.1% increase from October 2011 and the eighth consecutive month during which the median sales price rose.
The last time that occurred was during the eight months ending May 2006.
In addition, the Existing Home Sales report showed that the median time on market in October rose to 71 days, up 1 day from September 2012. As compared to October 2011, however, median time on market is down 26% from 96 days.
Other noteworthy statistics from the October Existing Home Sales report include :
Foreclosures and short sales accounted for 24% of sales
Foreclosures sold for an average discount of 20% to market
Short sales sold for an average discount of 14% to market
Furthermore, thirty-two percent of homes sold in October were on the market for less than one month. 20% were on the market for six months or longer.
Record-low mortgage interest rates continue to spur housing, as do low prices. Neither will last indefinitely. If you plan to purchase a home in Phoenix in 2013, therefore, consider moving up your time frame. Home ownership will likely increase in cost as the year moves on.