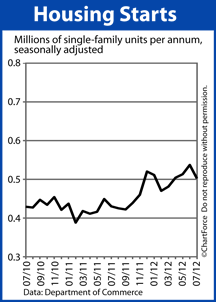 The market for newly-built homes remains strong.
As reported by the U.S. Census Bureau, July featured 502,000 single-family housing starts nationwide on a seasonally-adjusted, annualized basis, marking the fourth straight month during which single-family starts posted north of one-half million.
The last time this milestone occurred was in the four months ending April 2010 — the last month of that year's federal home buyer tax credit.
A "housing start" is a home on which construction has started and the rise in single-family housing starts is yet one more signal to buyers in Phoenix and nationwide that the housing market has likely put its worst days behind it.
Home builders, it appears, agree with that sentiment.
Last week, the National Association of Homebuilders reported builder confidence to be at a 5-year high. Sales levels have been growing since January and builders expect the next six months to be blowout.
One of the main drivers of today's new construction market is rising rental costs throughout many U.S. markets. It has helped to create an influx of new home buyers at a time when low mortgage rates have helped to keep new homes affordable.
As compared to one year ago, today's home affordability is high.
July 2011 : A $1,000 mortgage payment afforded a loan size of $196,200
July 2012 : A $1,000 mortgage payment afforded a loan size of $223,000
That's a 13.7% purchasing power increase in just twelve months — one reason why builders report buyer foot traffic through new construction at pre-recession levels.
The ability for buyers to access low downpayment mortgage programs is helping home sales, too.
The FHA offers a 3.5% down payment program and today's home buyers are taking advantage. FHA mortgages now account for an estimated one-third of purchase money mortgages, and the VA and USDA are gaining market share, too, with their respective 100% financing program for certain qualified buyers.
With low rates, low downpayments and soon-to-rise home prices, it's a good time to be a home buyer. If you've been shopping new construction, consider going under contract soon. As mortgage rates and prices rise, your personal home affordability falls.