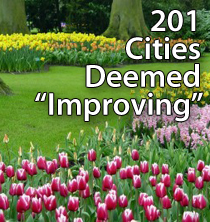 Last week's National Association of Home Builders/First American Improving Markets Index (IMI) brought positive news about U.S. housing markets and the broader U.S. economy, in general.
According to the IMI, there are now 201 U.S. markets which can be considered "improving".
To meet this standard, a local area economy must exhibit at least six consecutive months of improvement in terms of local employment, single-family housing permits and area home prices; and, at least six months must have passed since each of these readings were at their respective low points, called troughs.
The Improving Market Index added 76 metropolitan areas in December as compared to the month prior. 45 states are now represented on the list, in addition to the District of Columbia.
The cities deemed "improving" aren't limited to recent, high-profile hot spots such as Detroit, Michigan; and Phoenix, Arizona, either. Several of the newly-included areas for December were :
Atlanta, Georgia
Bloomfield, Illinois
Ithaca, New York
Riverside, California
Seattle, Washington
The geographic diversity of this month's Improving Market Index suggests a nationwide economic recovery in progress. More jobs, a steady supply of available homes, plus rising home prices helps communities thrive.
Unfortunately, it may also mean less opportunity to buy homes as rock-bottom prices.
As sellers and home builders gain confidence in the economy, it may be more challenging for today's Phoenix buyers to get a "great deal". In addition, an improving, post-recession economy will likely lead mortgage rates higher, robbing home buyers of their purchasing power.
Freddie Mac says that the average 30-year fixed rate mortgage rate is 3.32% nationwide. In a fully-recovered economy, that rate could be 5 percent or higher. The impact on monthly housing payments would be palpable.
The National Association of Homebuilders expects more markets to join the Improving Market Index list through 2013. Today's home buyers may want to lock in today's low rates before economic improvement leads mortgage rates higher.