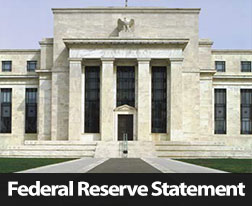 Wednesday's customary post-meeting statement issued by the Federal Open Market Committee (FOMC) of the Federal Reserve provided some relief to investors and analysts concerned that the Fed may soon raise its target federal funds rate. The target federal funds rate has held steady at between 0.00 and 0.25 percent since the inception of the Fed's current quantitative easing program. The FOMC statement indicated that the committee does not expect to raise the target federal funds rate until the Fed's dual mandate of maximum employment and reaching its target inflation rate is achieved.
FOMC members don't expect the wind-down of scheduled securities purchases under the quantitative easing program to cause long-term interest rates to rise quickly. The FOMC statement indicates that the Fed expects its current holdings and acquisitions of securities to hold down long-term interest rates and help with achieving the Fed's dual mandate of achieving maximum employment and 2.00 percent inflation. As in past meetings, the FOMC statement asserted the committee's dedication to reading and researching economic and financial reports and repeated that Fed policy is not contingent on a predetermined course, but that FOMC members make decisions based on current economic trends and developing domestic and global events.
FOMC members also re-asserted their position that after employment and inflation achieve levels consistent with the Fed's dual mandate, the Fed will likely maintain the target federal funds rate at lower levels than the committee considers normal for "some time."
Fed Chair Janet Yellen provided further insight into Fed policy during a press conference given after the FOMC statement. She also said that the FOMC's view of current economic conditions has not changed over the past few months. Chair Yellen also said that the committee expects to maintain the current target federal funds rate for a "considerable time" after asset purchases under the QE 3 program cease.
Fed Chair Yellen: Gaps Between Current Data and Fed's Mandate Shrink Modestly
In a press conference given after the FOMC policy statement was released, Fed Chair Janet Yellen emphasized that the committee's discussions did not imply any near-term changes to the target federal funds rate. Chair Yellen cited gaps between current unemployment rates and the Fed's mandate of achieving maximum employment and the current inflation rate and the Fed's target inflation rate of 2.00 percent as major considerations in forming current Fed policy. She said that the respective gaps had narrowed "modestly," and again emphasized the Fed's commitment to constant review of economic and financial data as a significant factor in its decisions to change monetary policy.
Ms. Yellen cautioned media representatives and analysts to avoid making economic projections too far into the future and pointed out that longer term predictions are subject to more variables. Chair Yellen also cautioned press conference attendees not to consider anything in the FOMC statement or her press conference to a definite time frame.
Media reps continued to press for definite dates and time projections, but Chair Yellen held fast to the Fed's often-repeated position that policy changes cannot be set by a calendar and also depend on economic trends and news that influence the Fed's monetary policies.