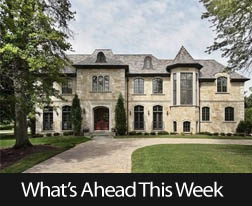 Last week's economic news brought several housing-related reports, which indicated varying results in terms of gauging the economic recovery. FHFA reported slower growth of home prices associated with Fannie Mae and Freddie Mac mortgages, but sales of existing homes as reported by the National Association of REALTORS® surpassed expectations and May's reading. Sales of new homes slumped to their lowest level in three months. Weekly jobless claims were lower than expected and also lower than for the prior week.
FHFA Home Prices Grow at Slower Rate, Existing Home Sales Higher than Expected
The Federal Housing Finance Agency (FHFA) reported that the average sale price of homes associated with mortgages owned or backed by Fannie Mae and Freddie Mac grew by.40 percent in May with year-over year growth of 5.90 percent. While national home price readings continue to rise, they are doing so at a slower pace since 2013's rapid appreciation of average home prices.
Sales of previously owned homes reached their highest level in eight months in June. Existing home sales surpassed expectations and May's reading in June, with sales of pre-owned homes at a seasonally adjusted annual rate of 5.04 million units. Analysts forecasted sales of existing homes at 5.00 million against May's reading of 4.91 million existing homes sold.
New Home Sales Fall Short in June
New home sales did not achieve the expected volume for June. The reading of 406,000 new homes sold was less than the expected reading of 475,000 new homes sold. Projections were based on the original May reading of 504,000 new homes sold, but this was downwardly revised to 442,000 new homes sold in May. Builders were said to be cautious about over-extending themselves are focused on new home construction in high-demand areas where home prices are higher. Homes are less affordable in such areas, which impacts lower sales volume.
Freddie Mac: Mortgage Rates Steady for 30-year FRM
The average rate for a 30-year fixed rate mortgage was unchanged at 4.13 percent with average discount points also unchanged at 0.60 percent according to Freddie Mac's weekly survey of mortgage rates. The average rate for a 15-year fixed rate mortgage rose by three basis points to 3.26 percent with discount points higher at 0.60 percent. The average rate for a 5/1 adjustable rate mortgage was two basis points higher at 2.99 percent with discount points ten basis points higher at 0.50 percent.
Weekly Jobless Claims Lowest since 2006
A major consideration for home buyers is stable employment. Recent reports suggest that the labor market is expanding; the Weekly Jobless Claims report continued this trend with a lower than expected reading of 284,000 new jobless claims filed against expectations of 310,000 new claims and the prior week's reading of 303,000 new jobless claims. Analysts found the declining number of new jobless claims consistent with lower unemployment rates, but cautioned that sustained weekly jobless claims readings lower than 300,000 are more consistent with a national unemployment rate of 5.00 percent or less.
What's Ahead
This week's scheduled economic news will add further insight to housing market trends with the release of Pending Home Sales for June and the Case-Shiller Home Price Index report for May. The Bureau of Labor Statistics will also release July's Non-Farm Payrolls report and National Unemployment report. The Federal Reserve is set to release its customary statement in the aftermath of the Federal Open Market Committee (FOMC) meeting that concludes on Wednesday.