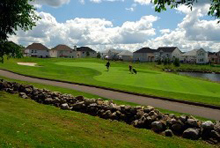 It's January, but home sales in golf communities remain strong like in the rest of the country.
If you're looking to buy a home in a golf course community, either as a primary residence or as a vacation or retirement home, there are additional home traits which make buying on a golf course different from buying a typical Phoenix single-family residence.
Here is a quick primer of home characteristics to consider when buying in a golf community.
Land Plot
When looking at homes within a golf course community, be aware of its location with respect to the community entrance. Homes nearest to the entrance will receive the most drive-by traffic and may be slightly more noisy that a home which is situated far from the entrance. However, homes close to the entrance will also be more navigable for visitors.
Security
How security-conscious is the community? Golf course communities tend to be gated communities but each will have varying levels of security. Some will have 24-hour gatepersons to manage and monitor traffic into the community. Others will use a pass-key system. Determine what's most important to you.
Proximity To Golf Course
Consider the physical location of the home relative to the golf course(s). Homes which are situated near tee boxes are less likely to be struck by errant golf shots, but may be louder because of chatty players. Homes off the golf course are typically free of all such hazard.
Amenities
Many golf communities feature amenities such as swimming pools, exercise facilities, and clubhouses. Some have tennis courts and other recreational outlets. Do these services require extra fees? Is there a mandatory membership cost, with minimum monthly purchase levels? Be sure to ask.
Association Dues And Restrictions
As with most planned community/association, golf communities typically require annual or monthly membership dues; and publish a list of rules by which homeowners must abide. For example, home improvements may be restricted by the rules of the community. Before buying, review the association by-laws carefully.
Golf course communities are a terrific way for golf enthusiasts play (nearly) year-round, and can provide a terrific lifestyle even beyond the golf game. If you plan to buy in a golf community, use the tips above to help with your research.
Then, when you're ready, talk to a real estate professional for help with your purchase.