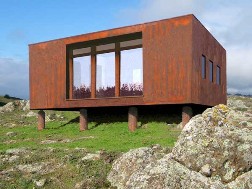 The real estate market has started to recover from the downturn over the last few years in many areas of the country, and more people are thinking about buying a new place to live.
With this new energy in home buying, an interesting trend seems to be developing.
Instead of going for larger homes, which was an overwhelming trend in years past, many people are choosing micro-dwellings.
What is a micro-dwelling?
There are a number of different styles of micro dwellings being built. This is a relatively new concept for homes in the United States and individual creativity abounds in this space.
The most common factor in micro-dwellings are their size. They tend to be less than 500 square feet of living space.
Some densely populated metropolitan areas like San Francisco and New York City are planning apartments as small as approximately 300 square feet!
Think this shrinking of real estate space applies only to multi-family dwellings?
Think again. You can also find tiny single-family homes — some of which are even portable.
If you're still not convinced, read on to discover a few of the factors drawing buyers to smaller living spaces.
A lower price tag – The cost of these homes can be significantly less than that of standard homes, which means you may not have a large mortgage over your head for the next 30 years.
More free time – A smaller house means less cleaning. Who isn't on board with that idea?
Less clutter – If your home is less than 500 square feet, you have to get rid of everything you don't absolutely need.
Mobility – Many of these tiny homes are equipped with wheels or built-on trailers, so moving is no longer the stressful and expensive undertaking it used to be. Simply close the door and go!
Smaller is greener – It makes sense that if your home is smaller, you will automatically reduce your energy consumption, which means more money in your pocket every month and a smaller carbon footprint.
Micro-living might not be for everyone. It does offer an option for those who are just starting out, those who love to travel, or those nearing retirement.
And even if you don't opt for the smallest living space, reducing energy usage and saving money are ideas most anyone can take to the bank.
Photo Credit: Tumbleweed Tiny Homes