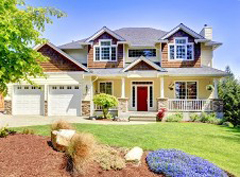 There are a lot of people who are spending more time at home these days. As the temperature starts to warm up once again, there are some homeowners who are looking for ways to upgrade the outside of their home. Even though there are some people who are looking at installing a brand new patio or deck, this can be extremely expensive. Fortunately, there are ways that homeowners can completely transform the exterior of their home without breaking the bank. Take a look at a few of the top ideas below.
Consider Adding An Outdoor Rug
First, homeowners should consider adding an outdoor runner or rug to the exterior of their home. Because this run is going to be outside, try to go with bright colors. Furthermore, there are also specific runners and rugs that have been designed specifically to stand up to the wear and tear of the outdoors. Consider adding a rug that leads from the patio door to the deck. Or, think about placing an area rug underneath the table outside. This can completely change the look of the patio.
Think About Installing A Swinging Chair
For those who are looking for a way to relax outside, consider installing a few swinging chairs. In some situations, homeowners might be able to attach a swinging chair directly to the awning outside. In other situations, it might be a smart idea to install a swinging chair that hangs from a tree in the yard. It is important to make sure the awning or the tree is able to support the chair before it is installed. Then, add a bright cushion to the chair and relax outside with a great book!
Use Citronella Candles
Anyone who likes to spend evenings outside under the stars should consider using candles. Specifically, think not using citronella candles. Citronella candles will help keep the mosquitoes away in addition to adding a majestic fuel to the outdoors. Think about using them on top of poles that line the walkway. This is a great way to add a little bit of ambiance to an evening party.
Consider a few of these ideas to completely change the exterior of the home in a budget-friendly way.