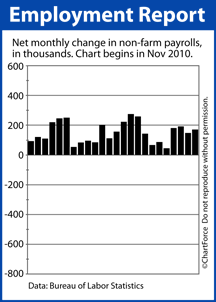 Another month, another good showing for the U.S. economy.
Mortgage rates are performing surprisingly well after Friday's release of the October 2012 Non-Farm Payrolls report. The Bureau of Labor Statistics' monthly report beat Wall Street expectations, while also showing a giant revision to the previously-released job tallies of August and September.
171,000 net new jobs were created last month against calls for 125,000 and revisions for the two months prior totalled 84,000.
October also marked the 25th consecutive month of U.S. job growth — a period during which 3.8 million jobs have been reclaimed. This sum represents more than half of the 7.3 million jobs lost between 2008-2009.
Nationally, the Unemployment Rate rose by one-tenth of one percent last month to 7.9%. It may seem counter-intuitive to see unemployment rates rise even as job growth soars. However, it's a sign of economic strength.
October's rising Unemployment Rate is the result of more workers entering the U.S. workforce and actively looking for jobs, a manifestation of rising consumer confidence levels and optimism for the future.
Typically, mortgage rates in Arizona would worsen on a strong jobs report like this. This month, however, rates are improving. This is mostly the result of Hurricane Sandy, which is expected to create a drag on the U.S. economy with its $50 billion damage tag.
The storm has Wall Street looking past the strong jobs report, positioning itself for the next few months. Investors are moving into less risky assets until the uncertainty surrounding the storm's effects subside. Mortgage-backed bonds are considered "safe" and are benefiting from this safe haven buying pattern.
For home owners and buyers in Phoenix and nationwide, the shift is yielding an opportunity to lock mortgage rates at artifically-low levels. 30-year fixed rate mortgages remain well below 3.50% for borrowers willing to pay discount points, and home affordability is approaching an all-time high.
Home values are expected to rise through 2013 so consider this week's low rates a gift. If you're in a position to go to contract and/or lock a mortgage rate, you may want to take that step today.