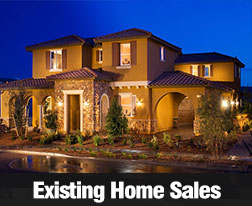 According to the National Association of REALTORS®, national sales of existing homes in June came in at 5.08 million.
June's reading was reported to be the second highest since November of 2009; this should calm concerns about a lapsing recovery in housing markets.
Summer typically produces the highest prices for existing homes sold, as families seeking larger homes frequently move during summer months.
The June inventory of existing homes improved by 1.90 percent to 2.19 million homes or a 5.20 month supply. June's number of available homes was 7.60 percent lower than in June 2012.
The shortage of available homes has been causing buyers to turn from existing homes to new homes in areas where both available homes and/or land for new construction are in short supply.
Average Home Prices Continue Their Climb Nationally
So the news of more existing homes for sale is good news for home buyers and housing markets that have been held back by an excess of buyers seeking a short supply of available homes.
NAR chief economist Lawrence Yun noted that inventories of existing homes are expected to "broadly favor sellers and contribute to above-normal price growth."
This trend was supported by June's national average price for existing homes at $214,200, which represented a year-over-year increase of 13.5 percent. Rising home prices and mortgage rates continue creating financial challenges for first-time buyers and others seeking affordable home prices and mortgage loans.
Distressed home sales were down from 18 percent in May to 15 percent in June; this is the lowest market share since tracking began in 2008. June sales of distressed homes were significantly lower than in June 2012's reading of 26 percent of existing homes sold.
The National Association of REALTORS® noted that falling levels of distressed sales are contributing to higher prices for existing homes.
FHFA Reports Home Prices Rise In May
The Federal Housing Finance Agency (FHFA) reported Tuesday that prices for homes financed by Fannie Mae and Freddie Mac rose by 0.70 percent in May as compared to April's downwardly revised 0.50 percent increase in home prices.
According to the FHFA Housing Price Index (HMI), home prices were up by 7.30 percent year-over-year in May, and are roughly equal to home prices reported for January 2005. May's home prices remained 11.20 percent below peak prices reported in April 2007.
May's FHFA data demonstrated steady growth of home prices for all nine census divisions on a year-over-year basis with home prices increasing from 2.70 percent to 15.80 percent in May.