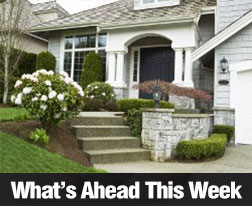 Welcome news arrived last week as lower mortgage rates and a higher number of housing starts were reported. Other economic news was mixed:
The Federal Reserve released its Beige Book Report released last Tuesday indicated modest economic growth throughout the 12 Federal Reserve districts. Analysts predicted that this would cause the Fed to further reduce the volume of monthly asset purchases made under its quantitative easing program.
The Atlanta, Cleveland and Kansas City districts reported slower home sales, which supported recent expectations of slowing gains in home prices.
Mortgage Rates Dip, Housing Starts Up
According to Freddie Mac, average mortgage rates fell last week. The rate for a 30-year fixed rate mortgage dropped from 4.51 to 4.41 percent with discount points unchanged at 0.70 percent. The rate for a 15-year fixed rate mortgage was 3.45 percent as compared to the prior week's reading of 3.56 percent.
Discount points rose from 0.60 to 0.70 percent. The average rate for a 5/1 adjustable rate mortgage dropped from 3.15 to 3.10 percent; discount points rose from 0.40 to 0.50 percent.
The National Association of Home Builders/Wells Fargo Home Builders Confidence Index dropped slightly in January. Although expectations were for a reading of 59, January's reading was 56 and lower than December's revised reading of 57.
The NAHB Index has increased by 19 percent year-over-year and is expected to continue rising in 2014 due to relatively lower mortgage rates, and pent-up demand for homes.
Housing starts for December came in at 999,000 against expectations of 985,000 and November's revised reading of 1.11 million. Cold weather and concerns over rising mortgage rates in 2014 were cited as causing fewer housing starts. As the Fed tapers its QE program, mortgage rates are expected to rise.
Consumer sentiment toward the economy was lower than expected according to the University of Michigan Consumer Sentiment Index for January. The confidence index was expected to rise to 84.0 based on December's reading of 82.5, but only achieved a reading of 80.4.
Higher gasoline prices and a slower labor market likely contributed to wavering consumer sentiment; rising inflationary expectations were also considered a cause.
This Week
This week's scheduled economic news includes an action-packed Thursday as today is Martin Luther King Jr. Holiday and no economic reports are scheduled for Tuesday, Wednesday or Friday.
Thursday's reports include Weekly Jobless Claims, Freddie Mac's PMMS, along with Existing Home Prices, FHFA Home Prices and Leading Economic Indicators.